Non-Profit Organizations
The Children's Services Network of Arizona is pleased to list local non-profit organizations that are in need of pro bono mental health services. If any CSN members or site visitors are interested in helping or would like more information, please contact the organization directly at the email address listed below.

---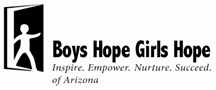 Boys Hope Girls Hope helps academically capable and motivated children-in-need to meet their full potential and become men and women for others by providing value centered, family like homes, opportunities and education through college. BHGH scholars are provided with alternative housing, private school tuition, college funding, enrichment opportunities, tutoring, mentoring, counseling and all the resources that they need to become the first in their families to earn a college degree. Annually more than 70 scholars and their families are served through one of three different programs: residential, community based and collegiate success. Our students must overcome challenges such as poverty, lack of parent involvement, lack of parent education and limited resources and support. We believe in a holistic approach to serving our scholars and focus on five main areas of development: physical, academic, social, spiritual and emotional. Our ultimate goal is to support our scholars from when they enter the program (anywhere between 10-17 years old) until they graduate from college.
Main office: (602) 266-4873
Email: jchisholm@bhgh.org
Website: www.bhghaz.org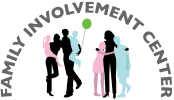 Family Involvement Center (FIC) is a not-for-profit organization founded and staffed by parents with lived experience raising a child with emotional, physical or behavioral health needs. FIC provides parent-led support groups, parent education and training as well as parent-to-parent and youth mentoring services for families of children enrolled in behavioral health services in Phoenix and Northern Arizona counties. In addition, FIC's Parent Assistance Center (PAC), fully staffed by parents, offers support and technical assistance by phone (state-wide) or in person Monday through Friday from 8:30am-5:00pm. FIC's Training Institute also delivers a wide-range of trainings for professionals and community groups in Arizona and nation-wide. Our mission is to assist and support parents and caregivers raising children with emotional, physical and behavioral health needs. Our experienced staff offer knowledge, resources, and suggestions as well as sincere understanding and compassion. Parents Helping Parents: It's Who We Are and What We Do.
Main office: (602) 288-0155
Email: pac@familyinvolvementcenter.org
Website: www.familyinvolvementcenter.org

Family Promise® of Greater Phoenix is a non-profit organization whose volunteers open their houses of worship to provide emergency shelter, meals and support to homeless families. At its Family Center in Scottsdale, the organization provides a day center, employment assistance, counseling and other services for families in the emergency shelter program. The families are bused each day to a faith community, where they have dinner, visit with volunteers and spend the night. Each faith community hosts families for a week at a time. Volunteers form relationships with the families and provide compassionate support, one of the hallmarks of the program.


Main office: (480) 659-5227
Email: info@familypromiseaz.org
Website: www.FamilyPromiseAZ.org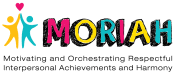 Founded on the principle that every child deserves the opportunity to maximize their individual potential, MORIAH collaborates with families, community partners, and professional service providers to fully satisfy this social contract. Our mission is providing guidance and support services for children with special needs and their families in the development of interpersonal communication, relationship development, and exposure to learning. Resources and services including scholarships (camp/social groups), inclusive social groups, and peer mentor programming are for children up to the age of eighteen and are provided through the generosity of volunteers, staff, and benefactors, whose focus is on empowering children to maximize their potential. For more information on volunteering or participating in events, visit us today.
Email: info@moriahaz.org
Website: www.moriahus.org